Product Information
Traffic Type: Residential
Overall Thickness: 5 mm (4 mm + 1 mm pad)
Width x Length: 7.1″ x 60″ (18 cm x 152.4 cm)
Wear Layer Thickness: .012″ (0.3 mm)
Visual: Wood
Finish: Urethane
Gloss: Low
Face Treatment: Embossed
Edge/End Treatment: Micro Beveled Edges/Micro Beveled Ends
Manufacturing Location: Cambodia
Warranty
35 Year Residential Limited Warranty
Product Structure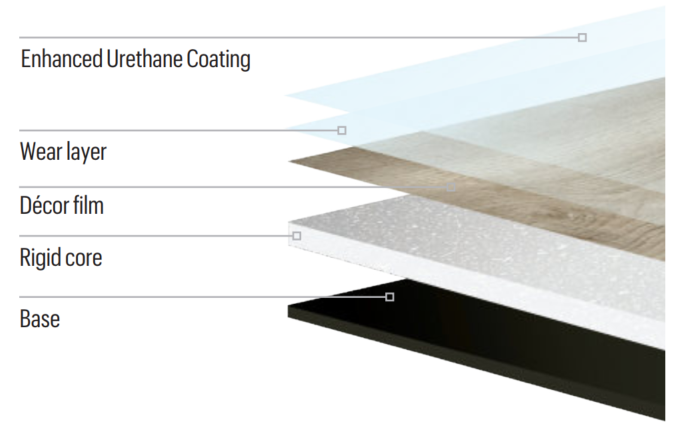 Product Features
Visually Stunning & Crafted To Last: Our Lutea collection is inspired by the lotus flower's symbolism and natural resistance to water and damage.
Sturdy planks are completely waterproof* and the designs are colors and textures found in nature.
Enhanced Durability: What makes Lutea different is its strong, solid core that provides incredible dent resistance. Combine that with some of the best warranties on the market and you have a floor that's made to last. Performs at temperatures from 32°F – 140°F with no crowning, cupping, or wear layer delamination.
Easy To Clean: Made with busy households in mind, Lutea stands up to spills, water and everyday messes. Thanks to a high-performance coating, cleaning up is a breeze.
*See warranty for details
Performance Standards
| | | |
| --- | --- | --- |
| Property | Test Method | Specification |
| Thickness | ASTM F387 | +/- 0.008" (0.20 mm) |
| Residual Indentation | ASTM F1914 | ≤ 0.007" (0.18 mm) |
| Chemical Resistance | ASTM F925 | No more than slight change in surface dulling, attack or staining |
| Resistance to Heat | ASTM F1514 | ∆E < 8 avg., max |
| Resistance to Light | ASTM F1515 | ΔE < 8 avg., max |
| Static Load Resistance @ 250 | ASTM F970 | ≤ 0.005˝ |
| Static Coefficient of Friction | ASTM D2047/UL 410 | ≥ 0.5 |
Acoustics
Rigid Core
Structure
Test Structure
STC
IIC
Delta IIC
5 mm
Concrete Slab – 152 mm
50
56
24
5 mm
Concrete Slab – 152 mm with drop ceiling
60
67
N/A
6 mm
Concrete Slab – 152 mm
50
55
24
6 mm
Concrete Slab – 152 mm with drop ceiling
60
66
N/A
Sustainability
FloorScore Certificates – Vinyl Plank Products
SDS
Rigid Core Vinyl Plank Products SDS
Installation
Care and Maintenance
Maintenance Guidelines:
All Residential and Light Commercial Vinyl Floors
Maintenance Products:
Cleaner: Once 'n Done
Matte Polish: Satinkeeper
High Gloss Polish: Shinekeeper
Deep Cleaner & Stripper: New Beginning
Product Data Table
| | |
| --- | --- |
| CARTON PROPERTIES | |
| Pieces Per Carton | 10 |
| Length | 60.6″ (153.8 cm) |
| Width | 7.6″ (19.4 cm) |
| Height | 2.1″ (5.3 cm) |
| Coverage Per Carton | 29.53 sq ft (2.74 sq m) |
| Carton Weight | 44.5 lbs (20.2 kg) |
| PALLET PROPERTIES | |
| Cartons Per Pallet | 50 |
| Coverage Per Pallet | 1476.5 sq ft (137 sq m) |